How to use Outline View in PowerPoint
In: Blog
Date: Jun 09, 2021
By: Ed Lepre
With Outline view in Microsoft Word and PowerPoint, you can quickly and easily create a short summary of the content of your document — without the need to type it out again.
In this blog, Edmund explains the benefits of Outline view and how to do it.
Hi, we are Happy
We are leading a movement to create happy, empowered and productive workplaces.
How can we help you and your people to find joy in at least 80% of your work?
More about Happy
Outline view displays an outline of your document's contents in either PowerPoint or Word. It makes it easy to focus on your text in the contents without graphics.
If you have used Word to develop your ideas and now need to put that work into PowerPoint, there is no need to type it all out again or copy and paste all the content. You can use that .doc file to instantly create a presentation!
With Outline view, you can edit your slides and move them around as needed, and easily control what information is displayed using Word's Heading Styles.
How to transform your Word document into a PowerPoint presentation
To get the full benefit of using Outline View, your Word document must be properly formatted using Heading Styles such as Heading 1, Heading 2 and Heading 3. You will need to set up your document so that the content that will become a Slide Title is formatted with the Heading 1 Style. Bullets are formatted with the Heading 2 Style and sub-bullets with Heading 3, 4 and 5 Styles.
Body Text content that is not in these heading styles will be ignored in the PowerPoint when converting.
To get started with Outline View, click on the View tab in Microsoft Word, and then click on Outline View.
In Outline View above you will see + signs to the left of text indicating that it will appear in the slideshow.
A Body Text with a circle in front of it will be ignored.
If your Word document contains no Heading 1 or Heading 2 styles, PowerPoint will create a slide for each paragraph in your content.
Any blank lines in between are automatically formatted as Headings or they become extra slides in PowerPoint – so you'll need to make sure that you delete any extra blank lines.
If there is a plus sign on the left of the text, this means that the text is formatted as a Heading Style and has additional Subheadings. This heading can then be expanded to see all the Subheadings.
Text that is not formatted as a Heading Style is called Body text and is identified by a small circle next to it and is usually indented below the heading that it follows. 
Next, you'll need to open PowerPoint and select Home > New Slide, then select Slides from Outline.
Finally, in the Insert Outline dialog box, find and select your Word outline and select Insert.
And that's it! You will now have transformed your Word document into a PowerPoint presentation that just summarises your main points.
This feature means you'll never have to spend time re-writing your documents into presentations ever again. How much time could this feature save you?
Why not sign up to our newsletter?
Sign up to our monthly newsletter, full of tips, tricks and news to help you to be happier and more productive at work.
Sign up here
Learn More PowerPoint Tips in Our Online Training Courses
We currently offer Beginner PowerPoint Core Level 1 and Intermediate PowerPoint Core Level 2 as live online training courses. They are a full day of learning from 9:30am to 3:30pm consisting of three 90-minute live online sessions with independent work in between.
Both PowerPoint Core Level 1 and Core Level 2 are available for private group sessions. Learn in the classroom at your location or at Happy's HQ in London, or via Live Online Learning with Zoom.
Why learn online with Happy?
Interactive and engaging - just like our classroom sessions
Bitesize or full-day sessions - fit around your schedule
Learn from home - all you need is a quiet place to call from and an internet connection
IT Helpline - 2 years of free support after your course
No quibble money-back guarantee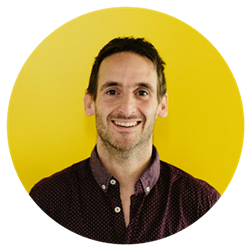 Ed Lepre
Ed is a Microsoft Certified Trainer (MCT) and has worked at Happy for over 12 years. Although he trains the full suite of MS Office and non-Office packages at all levels, his favourite package is Excel. A previous winner of the prestigious Learning and Performance Institute's 'Learning Professional of the Year' award, as well as other training accolades, he is also the IT Helpline Manager.
More by Ed