How to Expand Your Thinking With Mind Maps
In: Blog
Date: Aug 19, 2021
By: Paul Gapper
When Happy's Paul Gapper was thirty-eight, he decided he wanted to leave his job as a probation officer and become a freelance trainer. At the time, the BBC had published a series of books by Tony Buzan on mind mapping, speed reading and memory techniques. 
Paul was intrigued by the idea that you could start from a central idea and, on a single sheet of paper, expand your thinking around it.
In this blog, Paul talks about how mind maps have helped with the development of his career, as well as how to develop your own effective mind maps.
Hi, we are Happy
We are leading a movement to create happy, empowered and productive workplaces.
How can we help you and your people to find joy in at least 80% of your work?
More about Happy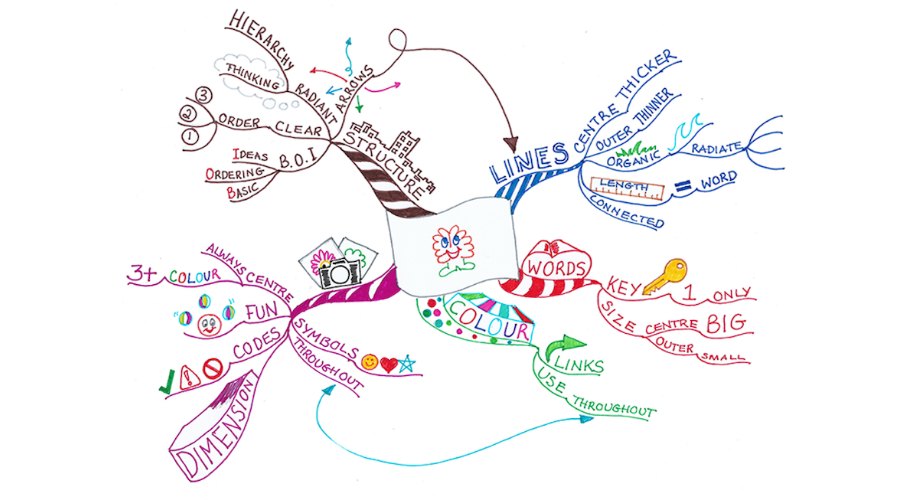 Mind maps are a bit like a flower. Different-coloured petals radiate from the centre and on each one, you can place an aspect of your life that you would like to reflect on or plan for. As you do so, more petals appear at each one, reflecting the colour of the original petal, offering blank possibilities for you to fill in. You can concentrate on one, allowing it to radiate and multiply, or you can add thoughts as they occur to you, to any petal in any order, letting the flower grow. At the end, you have a multi-coloured map of your thought process.
It encourages open, expansive and imaginative thinking, offering an alternative to the kind of linear, analytical, word-based approach we often use.
So, 20 years ago, as I sat there thinking about my move from a statutory agency to freelance work, I drew an image of myself in the middle of a blank page, standing next to a flipchart, dressed, for some reason, in red trousers and a green shirt. Then I thought about all the things I would need to consider. First up was 'Plan,' (when and how was I going to leave my job and move into the new one); then 'Risk,' (how would I cope with the risk I was taking); then 'Social,' (how, if I was working on my own, I would make up for the lost social contact of a workplace); then 'Advertising,' 'Legality,' 'Finance,' 'Qualifications,' and finally, the important one, 'Generate Work.'
Each of these words was placed on its own branch and each branch had a different colour. Notice that, apart from the last one, they are single words, and even 'Generate Work,' was given two cusps. The idea is to be able to generate freely, in a way that whole sentences stop.
Mind maps are an encouragement to use colour, images, space and associations. For example, in examining 'Risk,' I drew a picture of myself jumping off a cliff (though landing on a mattress) because it did feel like a huge risk. On sub-branches I found that it was as much about freedom as fear – I thought about the risks I had taken that I had benefitted from (including a brief time spent as a stand-up comedian); also, how I might work with the feelings of anxiety. Each of these were expressed in expanding branches of single words and images which invited further consideration.
You can see a mind map in the illustration with this post. It was created by Tony Buzan to summarise the principles: the way that large words give way to smaller words on subbranches; the use of arrows to indicate connections between thoughts on different branches; the use of dimensions, codes and, most important of all, fun. One way to think about it is that it's like a colourful free-thinking session. 
At work, I often use simple mind maps when I am designing courses, quickly adding branches for the key areas that I think need to be included, with sub-branches for the topics to be included in each section. At home, I do one at the start of each year, considering what I want to get out of it. I tend to find that the more I fill in, the more invested I become in the outcome. I have also found them to be largely accurate predictors – although, 2020 was a bit of a curve ball!  But when Covid hit and I found myself in lockdown, it was a mind map that enabled me to plan for my resilience and wellbeing.
You can do this now. All you need is a pack of multicoloured pens, a blank piece of paper and a subject you'd like to reflect on or plan for. At our next mind map course, we'll be looking at the principles and trying to create some. What has been amazing to me is how well this has transferred to Zoom, with people in their own space having time to create some truly impressive mind maps.
Why not sign up to our newsletter?
Sign up to our monthly newsletter, full of tips, tricks and news to help you to be happier and more productive at work.
Sign up here
Learn more in our Mind Mapping one-day workshop
Happy's one-day Mind Mapping workshop explores all aspects of mind mapping: how individuals and teams can use them to overcome blocks and build upon ideas. Throughout the day, you will create your own mind maps. There will be a chance compare them to international standards and reflect on the link to memory and recall.
Visit the Mind Mapping workshop page to see the full outline
Why learn online with Happy?
Interactive and engaging - just like our classroom sessions
Bitesize or full-day sessions - fit around your schedule
Learn from home - all you need is a quiet place to call from and an internet connection
No quibble money-back guarantee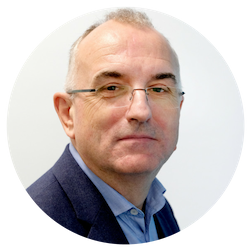 Paul Gapper
Paul is a Masters qualified trainer with experience in interpersonal skills, work skills and management training. He has worked in the public, private and voluntary sectors for over fifteen years. Paul has a Distinction in the Institute of Personnel Development Training Certificate and the teacher-training certificate for Mindfulness-Based Approaches from the Oxford Mindfulness Centre. In 2017, Paul was a Finalist for the Learning Professional of the Year at the 2017 Learning Awards.
More by Paul