Learn How to Create Happy, Productive Workplaces With the Happy Manifesto Podcast
In: Blog
Date: Jan 10, 2023
By: Claire Lickman
The Happy Manifesto Podcast, based on the principles in the award-winning management book The Happy Manifesto, will be launching on 12th January 2023. The aim of the podcast is to help people to create happy, productive workplaces.
The podcast will be hosted by Henry Stewart, the author of The Happy Manifesto and CEO of Happy, and Maureen Egbe, Senior Facilitator and Confidence Activator at Happy.
Hi, we are Happy
We are leading a movement to create happy, empowered and productive workplaces.
How can we help you and your people to find joy in at least 80% of your work?
More about Happy
The Happy Manifesto Podcast trailer
They will interview leadership gurus about their ideas and leaders of organisations who have used The Happy Manifesto principles to create happy workplaces. Guests include Tom Peters on the importance of empathy in leaders, Helen Sanderson MBE on creating people-centric workplaces, and Cathy Busani of Happy on playing to your strengths at work.
It is aimed at senior leaders and managers who want to transform their workplace, with a focus on giving real examples that people can takeaway and implement at their organisation.
"We are looking for real stories and examples that people can apply in their own workplace. We will be exploring the ways Happy's clients have implemented the ideas of The Happy Manifesto, as well as others who believe in these ideas," says Henry Stewart.
The first episode will launch on 12th January, alongside a launch party on 12th January at 17:00 UK time (held on Zoom). Following episodes will be released fortnightly.
"My mission is to create a world where a happy workplace is the norm and not the exception. There are too many organisations out there which are frustrating to work in, and lead to stress and even poor mental health. This podcast is about helping to make that possible – to spread real stories and ideas about how you can create a happy workplace."
"I didn't believe that you could have a happy workplace until I experienced it first-hand," says Maureen Egbe. "Realising that it doesn't have to be that hard was a game changer for me. I believe it's time to shake things up to bring Joy everywhere including the workplace. With The Happy Manifesto Podcast, we hope to shine a light on ideas and strategies from experts who have successfully applied them. I'm committed to helping create happy and productive workplaces for everyone."
To listen to the podcast, visit happymanifesto.com or your favourite podcast platform (Apple Podcasts, Spotify, Google Play).
Keep informed about happy workplaces
Sign up to Henry's monthly Happy Manifesto newsletter, full of tips and inspiration to help you to create a happy, engaged workplace.
Sign up here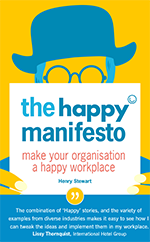 Learn the 10 core principles to create a happy and productive workplace in Henry Stewart's book, The Happy Manifesto.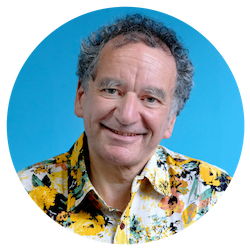 Henry Stewart, Founder and Chief Happiness Officer
Henry is founder and Chief Happiness Officer of Happy Ltd, originally set up as Happy Computers in 1987. Inspired by Ricardo Semler's book Maverick, he has built a company which has won multiple awards for some of the best customer service in the country and being one of the UK's best places to work.
Henry was listed in the Guru Radar of the Thinkers 50 list of the most influential management thinkers in the world. "He is one of the thinkers who we believe will shape the future of business," explained list compiler Stuart Crainer.
His first book, Relax, was published in 2009. His second book, the Happy Manifesto, was published in 2013 and was short-listed for Business Book of the Year.
You can find Henry on LinkedIn and follow @happyhenry on Twitter.
More by Henry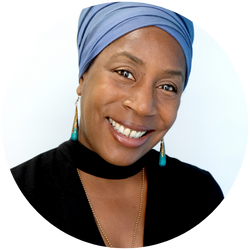 Maureen Egbe, Senior Facilitator and Confidence Activator
Maureen is a senior facilitator and confidence activator with Happy Ltd. She has over 10 years' experience of delivering digital training and confidence coaching to organisations and solopreneurs.
Maureen initially joined Happy in 2012 initially as an IT Trainer. She now supports facilitators as a Multiplier and Mentor, encouraging everyone to be their best selves. She is also a qualified TPMA assessor, helping to maintain the quality of Happy's workshops.
Most of Maureen's time is spent facilitating and supporting learners on their Leadership and Management apprenticeship journey. In 2021 she designed a new 'Global Majority Apprenticeship Programme' specifically for Black, Asian and Ethnic Majority managers.
Maureen enjoys helping people navigate the challenges that workplaces and businesses can bring. She is passionate about supporting people to overcome the blocks that stops or slows them down from achieving their goals, their potential and their success.
About Maureen