How Mind Maps Can Help You to be Brave and Think More Creatively
In: Blog
Date: Nov 07, 2019
By: Paul Gapper
You may have already come across Mind Maps in your day-to-day life or while at work. They are a great way to encourage creative thinking while brainstorming, as well as improving memory retention.
In this blog, Paul talks about how he personally has used Mind Maps to help him to develop his career, as well as how you can develop your Mind Maps to be more effective.
Hi, we are Happy
We are leading a movement to create happy, empowered and productive workplaces.
How can we help you and your people to find joy in at least 80% of your work?
More about Happy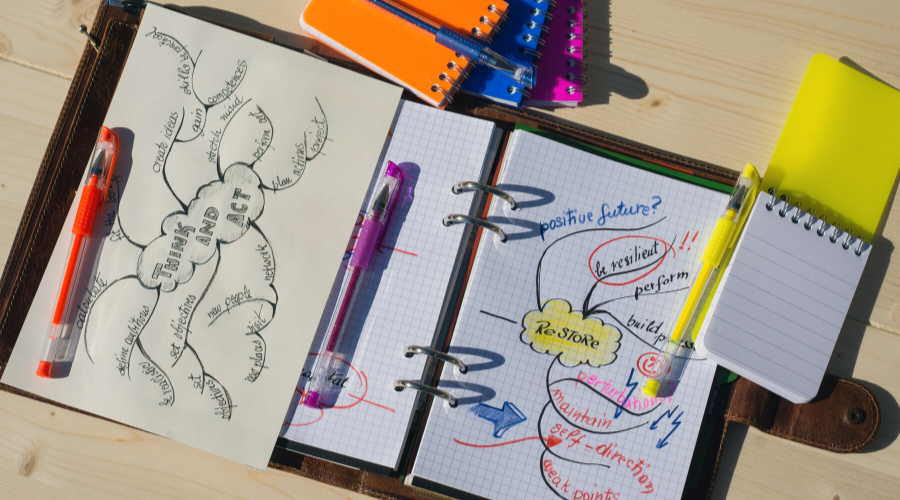 In 2000, I found myself at one of those decisive moments of my life.  I still have the mind map that I created which helped me make the right move.
Before saying more, let's establish, for those who do not know, what is meant by a mind map.  Look at this one below:
As you might have noticed, this is a mind map about mind mapping. There is a central idea and then branches that describe different aspects of that idea: collaboration, productivity, planning and creativity.  Each of those aspects has a further exploration. For example, it can be used for planning projects, goals and strategies.
The map is radial, expanding out from the centre. It uses colours, images and linking arrows, encouraging us to use our creative, non-verbal thinking. To get away from the simple writing of lists. It is this expansive, free-thinking, colourful character that first drew me to them.
Mind maps are often associated with Tony Buzan, who came to prominence in 1970s, when he appeared on a programme called Use Your Mind. But graphic representation of problems had begun as early as 3rd century, and Buzan himself cited the semantic networks used in the 1950s.
So, how did this help me with my life crisis? 
At the time, I had been working for 10 years in the probation service, supervising offenders and running offending behaviour groups. I had also run the occasional training event for colleagues — which I loved. I was approaching 40 and was aware that I wanted to make a change. Specifically, I wanted to go freelance as a trainer. This was a big step: going from the certainty of work and a pension, to having to find work for myself.
So, I sat and started sketching a mind map. Where would I get work from? Who did I know that I could speak to? What financial concerns did I have to address (that pension!)? How much would I charge? What support would I need?
But there was also fear. I was excited to be going freelance, but also nervous. On one branch, I drew myself standing on a cliff-edge and jumping (it felt like that big a step). To add comfort, I drew a mattress at the bottom and a dotted line showing my path and the bounce.
As I drew, the possible became more and more of a reality. I felt a greater confidence in what I was setting out to do. What is surprising to me now, is how much of the original mind map that came to fruition.
I recently became a certified trainer for Mind Maps. It made me realise that with a few simple additions I could enhance my mind maps. To use the mind map above as an example, we might draw that central idea as an image, using three colours. We might also break some of the branch ideas into discrete sections. So that, instead of having 'simple, fast and fun,' on one unbroken branch, we might give each word its own section.  That would allow us to explore each word separately. 
I continue to use mind maps both at work and at home: at the start of each year; when planning courses; when thinking through problems. A few years ago, I even used one to think about returning to work for a single organisation. Which is why, after 15 years as a freelance, I came to work at Happy.
Related blogs
Why not sign up to our newsletter?
Sign up to our monthly newsletter, full of tips, tricks and news to help you to be happier and more productive at work.
Sign up here
Learn more in our Mind Mapping one-day workshop
Happy's one-day Mind Mapping workshop explores all aspects of mind mapping: how individuals and teams can use them to overcome blocks and build upon ideas. Throughout the day, you will create your own mind maps. There will be a chance compare them to international standards and reflect on the link to memory and recall.
Visit the Mind Mapping workshop page to see the full outline
Why learn online with Happy?
Interactive and engaging - just like our classroom sessions
Bitesize or full-day sessions - fit around your schedule
Learn from home - all you need is a quiet place to call from and an internet connection
No quibble money-back guarantee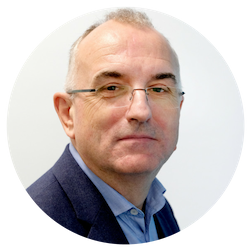 Paul Gapper
Paul is a Masters qualified trainer with experience in interpersonal skills, work skills and management training. He has worked in the public, private and voluntary sectors for over fifteen years. Paul has a Distinction in the Institute of Personnel Development Training Certificate and the teacher-training certificate for Mindfulness-Based Approaches from the Oxford Mindfulness Centre. In 2017, Paul was a Finalist for the Learning Professional of the Year at the 2017 Learning Awards.
More by Paul