Employee Engagement: Transforming Culture
In: Blog
Date: Oct 05, 2021
By: Billy Burgess
Nita Clarke is director of the Involvement and Participation Association (IPA), Britain's leading organisation delivering workplace support for good employment and industrial relations.
David MacLeod is co-chair of the Employee Engagement Task Force launched by the Prime Minister in 2011. He is a visiting Professor of the Cass Business School, a Fellow of the Ashridge Business School, the Institute of Marketing and of the RSA.
Speaking at the 2017 Happy Workplaces conference, Nita and David look at the increasing external pressures bearing down on organisations and the increasing demands employees have of their workplaces.
Watch Nita and David's full talk below.
Hi, we are Happy
We are leading a movement to create happy, empowered and productive workplaces.
How can we help you and your people to find joy in at least 80% of your work?
More about Happy
Employee Engagement: Transforming Culture
Both Nita and David have been awarded OBEs for their services to employee engagement.
Nice was vice-chair of the MacLeod Review on employee engagement and continues to work with David on the new national Employee Engagement task force, launched by Prime Minister David Cameron in March 2011.
Nita was awarded an OBE for services to employee engagement and business in the Queen's birthday honours in June 2013.
David co-authored the book entitled The Extra Mile published by Pearson on the topic of employee engagement. David is co-author of the Engaging for Success report commissioned by the Department of Business, Innovation and Skills, and described by the CMI as the definitive work on this subject.
Like Nita, David was awarded an OBE for services to employee engagement and business in the Queen's birthday honours in June 2013.
In their talk at the 2017 Happy Workplaces Conference, Nita and David focus on the four enablers of employee engagement.
Keep informed about happy workplaces
Sign up to Henry's monthly Happy Manifesto newsletter, full of tips and inspiration to help you to create a happy, engaged workplace.
Sign up here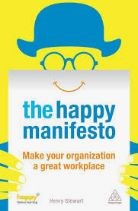 Learn the 10 core principles to create a happy and engaged workplace in Henry Stewart's book, the Happy Manifesto.
About Nita and David
Nita was appointed vice-president (employee relations) by the Chartered Institute of Personnel Development in January 2012, and is a visiting Fellow at Kingston University Business School. She is also a member of the Mutuals Task Force established by Cabinet Office Minister Francis Maude in 2011.
Early in his career, David was was head of marketing for the Dulux brand before going on to be managing director of a European Business and then CEO of a global business formed through the merger of an ICI and a Unilever business.
Next Conference: 2022 Happy Workplaces Conference
The Happy Workplaces Conference is our biggest event of the year, and we are very excited to announce that our 2022 event will be on 12th May! Once again we will be using Zoom to host the event, as it has been such a huge success online.
As always, HW22 will be hugely interactive with lots of discussion, laughter and opportunities to meet other people who are committed towards creating happy workplaces.
Save the date for 2022 and save 50% with our Early Bird discount!