Career Opportunity: Hospitality Coordinator
In: Blog
Date: Jul 12, 2019
By: Claire Lickman
Happy is looking for a friendly, organised and experienced Hospitality Coordinator to meet and greet our clients and to be responsible for our café area at our HQ in London.
Hi, we are Happy
We are leading a movement to create happy, empowered and productive workplaces.
How can we help you and your people to find joy in at least 80% of your work?
More about Happy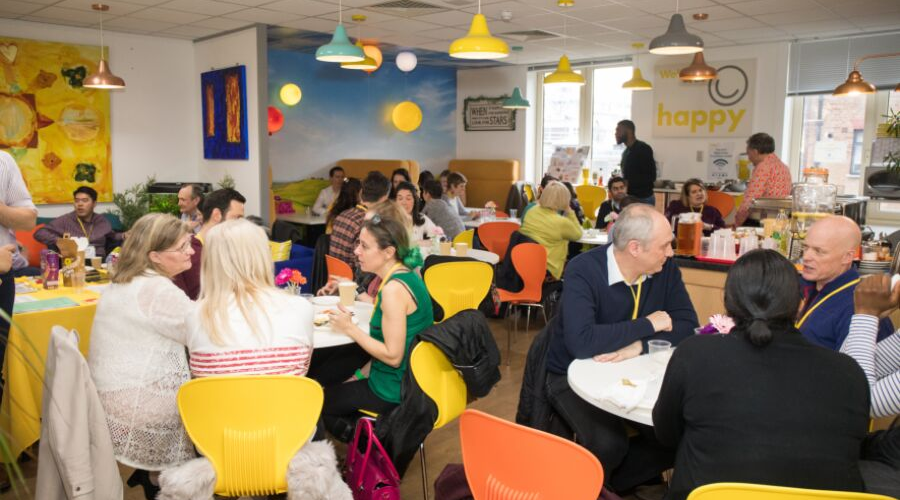 Overview
Happy is an award-winning fast-growing learning and development organisation. We create joy at work through our consultancy services, by facilitating learning events, creating eLearning solutions and managing Apprenticeship schemes. We also run small to medium-sized conferences at various locations (mostly around London).
We have a comfortable and colourful café area at our HQ in Aldgate, central London — just a few minutes' walk from Aldgate and Aldgate East stations. An external catering provider prepares and delivers food for lunch on our behalf for learners who come to learn at our centre.
We are looking for a friendly, organised and experienced Hospitality Coordinator with impeccable professional and personal presentation to meet and greet our clients at Happy at reception upon their arrival, so a warm and welcoming attitude is a must.
The Hospitality Coordinator will also be responsible for our café area. They will make sure that the food is served safely and on time, and that the premises are clean, safe, stocked up and presentable at all times.
Although they won't have any direct reports, the nature and responsibilities of this job positions this role at a supervisory level.
What we need
Happy is a small company, so there is never an absolute demarcation of jobs. All staff are expected to take on any task if it is necessary to ensure the provision of an excellent service to our clients. In the long term you are expected to work out your own goals and develop your own job description.
This is a front of house, self-managing, customer-facing role, part of an enthusiastic and committed admin team.
Tasks involved in the job
Welcoming and registering our clients on our online system upon their arrival in our Reception; being a friendly source of support whilst they enter the premises and settle in the café area prior to their courses and throughout the day as they use the area for their breaks;
Positively dealing with any delegates' issues that may arise on the day before their courses, liaising with the rest of the admin team as needed and updating our records accordingly;
You will be responsible for the smooth running of our café:

Setting up our café first thing in the morning: preparing and replenishing refreshments: hot and cold drinks, biscuits, fruit and other snacks ensuring nothing runs out throughout the day
Café stock management: responsible for online food / sundries ordering, topping up at local shops as required for items such as fresh fruit and milk; safely storing and rotating all café stock.
Liaising with our external caterer: checking upcoming bookings and special requests/needs; place weekly order with caterer, amend any orders / request special meals etc as needed;
Laying out pre-prepared buffet lunch, ensuring any hot food is served as such.
Keeping the café area clean and tidy at all times: having an eye for detail and look out for anything that needs to be improved / fixed and actioned accordingly;
Clearing up after delegates in the reception/café area throughout your working hours
Following health and safety and food hygiene regulations (attending any relevant courses during your working hours as and when needed); reviewing the current café checklist to ensure it's always up-to-date; ensure the storage cupboards and fridge are kept clean and tidy at all times.

Attend team meetings during working hours as advised. Twice a year we have a one-day company-wide internal event. You will be expected to attend and given plenty of notice of the dates.
Support to Facilities Manager, Events Manager and Conference Manager and the admin team ad hoc.
Any other tasks as required within this role.
You will be expected to use cleaning products for the café area counter tops, sink, cupboards and fridge, and we provide protective clothing (rubber gloves and apron). You will be required to operate a coffee percolator, a countertop hot water dispenser, hot food chafing dishes and a dishwasher.
We won't require you to wear a uniform but a smart casual dress code applies.
You will be expected to regularly review clients' feedback from our online CRM system on how welcome they felt and on their refreshments / lunch and action as necessary, liaising with the Facilities Manager.
You'll also be expected to proactively implement changes in your areas to improve customer delight, better utilise our resources and help provide an outstanding experience for our clients.
What you get
The role is varied, with elements of customer service, building maintenance and food service, support to our Facilities Manager and Conference Manager, and the rest of the admin team on an ad-hoc basis.
One of Happy's founding principles is to give our staff trust and freedom: so you will be given the flexibility to run things the way you want, within our guidelines. All we ask is that you work within Happy's culture and create customer delight.
The rate for the post is £21,000- £25,000 (full time equivalent) pro-rata for 30 hours per week.
Hours: 30 hours per week: 5 days a week, 8.30am to 3pm including 30 minutes' lunch break.
Holidays: 22 days per year pro-rata, plus one extra day for each year of service, up to a maximum of 30 days, pro rata.
Training: An additional benefit, subject to availability, is the opportunity to go on any Happy course, and you will be actively encouraged to learn lots of new things; Food safety and any other mandatory training will also be provided.
Probation & Notice: The first three months at Happy is the probationary period, during which time the notice is one week on either side. Once you are confirmed in post the notice period for all senior positions is two months on either side.
About you
Experience
Minimum two years' experience is similar self-managing role working directly with customers in at least one of the following: reception / hospitality / events / front house catering.
Skills
Ability to take responsibility and self-manage
Confident in delivering great service engaging positively with our clients in a reception as well as café context
A genuine interest in food
Food Safety awareness is desirable (but not essential as training will be provided).
Clear positive communication skills – proficient in written and spoken English
Numeracy skills
MS Office / IT skills
High standards of personal hygiene, personal (smart casual) appearance and tidiness
Great social skills: a professional yet relaxed, friendly attitude, to enable fellow members of staff and clients to feel relaxed and at ease
General Characteristics
Commitment to excellence in everything you do, especially in meeting and exceeding the needs of the client
Ability to communicate well and develop strong relationships with our clients
Flexibility: Happy staff must be prepared to question their working methods, test out new ideas, celebrate their mistakes and seek to continually improve their abilities
Ability to leave every person you deal with feeling good about themselves
Excitement about working for Happy and commitment to our principles and keeping up to date on our products and services
Great team worker: ability to work positively and support others but also the ability to work on own initiative when necessary
Enthusiasm: positive thinking is essential in all aspects of Happy's work
Excellent time keeping and general reliability
Ability to learn quickly
How to apply
Click here to apply for this position
Closing Date: End of Sunday 11th August 2019
Invitations to first interview: by email, by end of Monday 12th August
First interview (group interview): Friday 16th August 10.15am - 1.30pm
Second Interview: Tuesday 3rd September 3.00pm – 5.00pm
The interview dates are fixed, so please make sure you are definitely available to attend them before you continue with your application.
Careers at happy
Happy is leading a movement to create happy, empowered and productive workplaces. Our goal is for our people to find joy in at least 80% of their work.
We have been recognised for our values-focused culture as well as the quality of our services. This includes the Employer Brand and Values Award at the 2019 Business Culture Awards and we have been recognised by WorldBlu as a Freedom-Centered Workplace for five years.