Career Opportunity: Freelance IT Trainer
In: Blog
Date: Dec 04, 2019
By: Claire Lickman
Happy is seeking freelance IT trainers based across the UK, particularly Yorkshire. We provide end-user training to a range of individuals and organisations, covering popular topics such as MS Office, Office 365 (particularly OneDrive and Teams) and Google applications.
Our approach is different to other training providers. For us, training isn't just about being knowledgeable or conveying complicated information. It's about how much you can involve your learners.
Closing date: 5pm on Monday 6th January
Hi, we are Happy
We are leading a movement to create happy, empowered and productive workplaces.
How can we help you and your people to find joy in at least 80% of your work?
More about Happy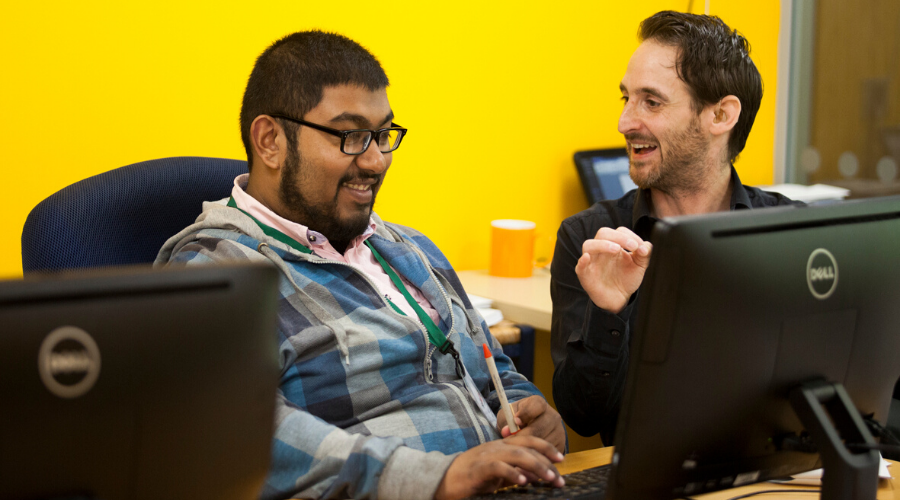 We are looking for experienced Freelance IT trainers and course developers, with a package knowledge that covers MS 365 Office and G Suite Applications to an advanced level, as well as experience of end user packages such as MS Project and SharePoint. Software Rollout experience (such as SAP, Salesforce, Siebel, Oracle and large SharePoint rollouts) is also highly desirable.
All our staff or freelance IT trainers are required to be TPMA accredited with the Learning and Performance Institute (LPI). If you are not accredited, but we believe you have the potential to be, Happy will offer training and accreditation as part of your induction.
If you make learners' involvement the focus of your training whilst also making the use of computers fun, and are determined to provide the very best service to every learner, then please apply.
What you get
The standard starting daily rate for most courses is £190 per day. For larger projects, this rises to £250+ per day.
A performance bonus is also available for each day (between £10-£20) for trainers who score sufficiently high on our post-course evaluation forms.
Subsequent rate negotiation is dependent upon length of relationship, delivery of particularly high-income training and, crucially, consistently high evaluation scores.
As a freelancer, you are invited to sit in on our courses as part of your development. As previously mentioned, Happy will also provide TPMA training and assessment if you are not already accredited.
How to apply
Please complete an application form to apply for this position
The deadline for applications is 5pm on Monday 6th January.
For our interview process, we will ask you to deliver a short piece of learning (no more than 15 minutes). We're not looking for your technical expertise. We're looking for your attitude, personality, communication skills and your ability to engage with a group of learners.
First Interviews: Tuesday 28th January- Leeds, venue TBC
Second Interviews: Tuesday 4th February 2020 – Leeds, venue TBC
Please note: Dates are fixed for this round of interviews; however if you can't make these dates but you are keen to apply please do, and select 'please consider me for future interviews' as we will look at recruiting again later in the year (although that may mean an interview in London).
Not quite the role for you?
Visit our Careers page to view our current vacancies. Sign up to our mailing list to be the first to hear when we are looking for a new member of the team.
Visit our Careers page
Job Description
Essential Characteristics
Experience as a freelance trainer on medium to large projects, with ability to manage own schedule and juggle requests for dates reliably.
Knowledge and experience of training Office 365 (and ideally SharePoint).
Ability to fully involve learners and train to the standard of TPMA or an equivalent.
Infinite patience: the trainer will never show annoyance or anger with learners or put them down, whatever they do.
Excellent communication skills: the ability to avoid unnecessary jargon and explain computers and software in language that a non-technical person can understand.
Good social skills: a relaxed and friendly attitude, to enable all learners to feel relaxed and at ease.
Performance skills: the trainer should ensure that the learners have an entertaining and enjoyable day.
Commitment to the Happy's training principles: these are based around a training style that fully involves all delegates, and seeks to realise their learning potential.
Flexibility: Happy's trainers must be prepared to question their methods, test out new ideas and seek to continually improve their training ability.
Interest in the way people learn, and in actively using coaching skills to improve training.
Curiosity and learning ability: trainers must be able to learn new packages at short notice.
Course preparation: the person is expected to spend time ensuring they are completely at ease with course manuals, timetables, demos and exercises, and on top of the package that they are training in.
Consideration and tidiness: Trainers will commit to leaving training rooms / shared areas tidy for other trainers. Taking pride in the Happy environment, and showing consideration to users and learners.
General Characteristics
Energy and enthusiasm: positive thinking is essential in all aspects of Happy's work.
Responsibility and initiative: all of Happy's Associates must be reliable, able to take responsibility, determine their own job and work on their own initiative.
Commitment to quality: the trainer must see excellence as their goal and be totally dedicated to creating customer delight.
Excellent time keeping and general reliability: our courses start on time, not a minute late. They finish on time, not a minute earlier (where there is reasonable control).
Happy is a strictly drug-free environment. Employees should not drink alcohol, take recreational drugs - or be under their influence - during working hours (including breaks). Trainers should never smell of cigarette smoke.
Careers at happy
Happy is leading a movement to create happy, empowered and productive workplaces. Our goal is for our people to find joy in at least 80% of their work.
We have been recognised for our values-focused culture as well as the quality of our services. This includes the Employer Brand and Values Award at the 2019 Business Culture Awards and we have been recognised by WorldBlu as a Freedom-Centered Workplace for five years.