Career Opportunity: Account Manager
In: Blog
Date: Dec 10, 2019
By: Claire Lickman
Happy is seeking an Account Manager to work within our Leadership and Personal Development team. You will have your own set of accounts and will be working in a team of five people.
Please note that this vacancy has now closed. Please see our Careers page to see our current opportunities and to sign up for our Careers mailing list.
Not quite the role for you?
Visit our Careers page to view our current vacancies. Sign up to our mailing list to be the first to hear when we are looking for a new member of the team.
Visit our Careers page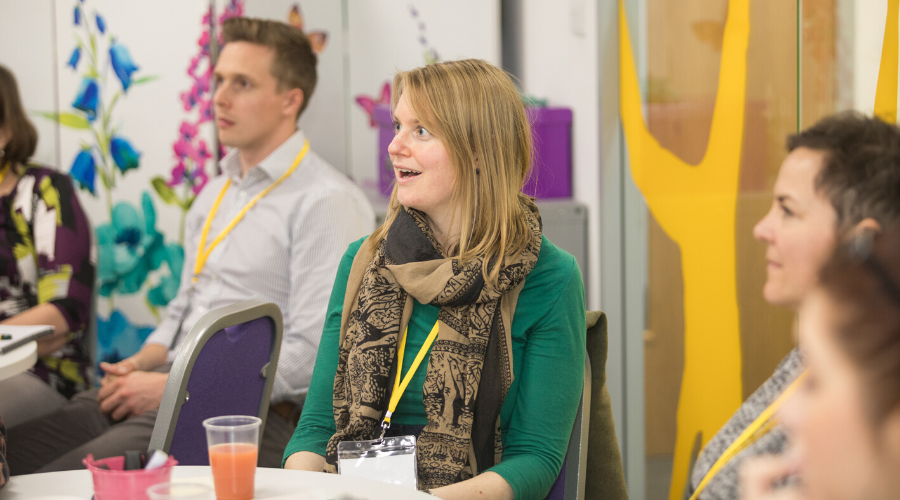 Overview of the Role
As Account Manager you will have your own set of accounts and will be working in a team of five people. You'll be working with clients, taking them all the way through the "Happy journey" from selecting the appropriate programmes and dealing with logistics and delivery of the event, to finding out the client's experience of the training and identifying any further needs to help build a happier workplace. All with the view of creating 'customer delight'!
Happy is a fast-growing training and consultancy company and we are looking to further our mission in the development of our business. This means you'll be supporting Happy's purpose by actively seeking to build new client relationships which will lead to further business. This could mean attending our annual Happy Workplaces Conference and networking events to be an ambassador for Happy's mission. It's an opportunity to strengthen existing client relationships and share Happy's products with new clients.
At Happy we seek to work to our strengths and by doing this there will be opportunities to get involved with projects that motivate and engage you.
Role specification
Build and maintain relationships internally and externally
Build new business with a commercial outcome e.g. meet Happy's yearly revenue target
Logistical, solution oriented, dealing with logistics of client requests, organising and coordinating client training
Being able to understand and communicate across different organisations (to include large corporations to small charities)
Take ownership of allocated accounts, taking a holistic view of what Happy can offer the client
Networking
Job Description
Experience
Between 1-3 years' experience in a similar role, working in a busy dynamic office environment
Experience of working directly with customers either internally or externally, over the phone and via email
Essential characteristics
Team player
Adaptable to change
Flexible
Relaxed, friendly attitude
Self-starter and self-managing
Growth mindset; willingness to learn and challenge yourself to develop your knowledge and skills
Strategic
Implementer
Able to challenge
Strong communicator with can do attitude
Positivity
Believing the best of others
Excitement about working for Happy and commitment to our principles
Essential skills
Strong computer skills to include Microsoft Office packages, such as Excel, Word, Outlook
High level of numeracy
Experience of CRM systems desirable (but not essential)
Salary and Benefits
The salary range for the post is £24,000 - £27,000 per annum. In addition, there is a monthly excellence bonus (equal to a minimum annual figure of £500) and a yearly profit related pay bonus.
Hours: 37.5 per week – initially 9.00am to 5.30pm plus attendance at a monthly staff meeting as part of the working hours – currently monthly on a Tuesday at 4.45-5.30pm.
Flexible working hours in consideration of the business needs once you have passed probation.
Holidays: 22 days per year (plus 1 extra day per year for each year of service, up to a maximum of 30 days annually), plus bank holidays.
Extra day off for your birthday on top of annual leave entitlement (for anyone with low sickness record) (paid)
1 extra day off for Chanukah/Christmas on top of annual leave entitlement (paid).
Opportunity to attend any Happy course subject to business needs.
Personal training budget of £250 a year for external training/books/online courses etc.
Possibility to use the training rooms after business hours for personal interests such as meditation classes, yoga, craft club evenings.
Probation & Notice: The probation period is three months during which the notice period is one week. Once confirmed in post the notice period is two months.
How to Apply
Please note that this vacancy has now closed. Please see our Careers page to see our current opportunities and to sign up for our Careers mailing list.
About happy
We're Happy. We ignite possibilities within people and organisations to create joy at work.
We're a group of smart, passionate, and enthusiastic people with a shared ambition to create lasting and meaningful change through the world of work.
Happy's principles are based on the book The Happy Manifesto written by Happy's founder.
It matters to us who we work with. We deliver learning and development and consultancy services to organisations that want to be a valuable part of our society. We support organisations to create a culture of trust, freedom and innovation in the workplace and help create organisations that people feel proud to work for.
Our programmes cover everything from IT to personal development. On our flagship Happy Workplace Leadership Programme, people embark on a four-month journey of self-discovery to become more resilient, confident and emotionally self-aware leaders with skills they can take back to the workplace to create joy at work.
Most of our growth comes from "word of mouth" recommendation, based on the quality of the service we provide to our customers. Internally known as "Creating Customer Delight!"
Working at Happy, our core values are:
Help people feel good about themselves
Believe the best of people
Love work (but get a life)
Trust others
Create customer delight (always go above and beyond to leave the customer with a positive experience)
Celebrate mistakes (they're the only way we learn)
Make the world a better place
Create change, be innovative and creative
Careers at happy
Happy is leading a movement to create happy, empowered and productive workplaces. Our goal is for our people to find joy in at least 80% of their work.
We have been recognised for our values-focused culture as well as the quality of our services. This includes the Employer Brand and Values Award at the 2019 Business Culture Awards and we have been recognised by WorldBlu as a Freedom-Centered Workplace for five years.